ABOUT
Featured Character is a game where someone's original character is featured every 48 hours. Everyone will have the chance to create art of this character and be entered by a randomized raffle to have their own character featured for the next round. To participate, please join our Discord! Everything takes place there.
WHEELIE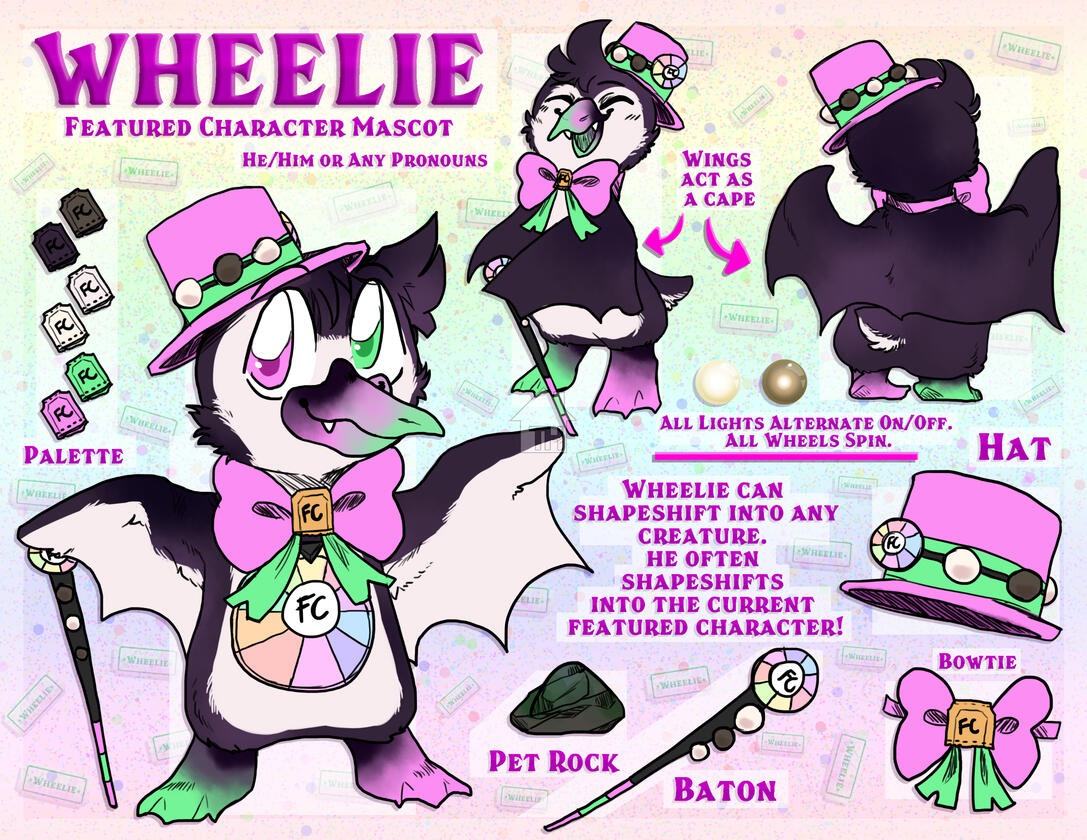 Seen this silly penguin around? That's our mascot! Look at all the cool art people have made for him over on his ToyHouse. He loves fanart!
---
How do I enter?
First, join our Discord! The game takes place there. Then all you need to do is create art for the current featured character and fill out the form provided for a chance to have your character featured next.
What kind of characters can I enter?
Anything! As long as it is within the rules (Listed in the rules channel on Discord), any character is fine. It can be human, feral, anthro, mech, blob, or anything in between!
How is a winner chosen?
Winning Featured Character is based on random chance. Everyone who enters is put onto a wheel. Skill has no part in this game. Featured Character is a great way to practice your art skills.
I don't draw. Can I still enter?
Featured Character is based on visual art and you will need to submit original art created by you to enter. However, all types of visual art are welcome! Some types include but are not limited to: Digital art, Traditional art, 3D models, clay sculptures, plushies, and so on!
I don't want to enter a character, but still want to gift art to the current winner. Can I do this?
Yes! Gift art is always welcome and very much appreciated. There is a dedicated channel in the Discord where gift art can be summited.
Can I enter for a friend or mutual?
Yes! As long as they have given you permission and are okay with it, you are more than welcome to enter for another person with your own art.
Can I start a Featured Character game in my own server?
Yes, but we would like to ask that you please give credit to this site and our project for the idea. We appreciate it!
---
❤ Former Staff ❤
Leafjelly is no longer on the staff team, but we greatly appreciate the help provided starting up FC! Show them Love!
HOW TO TRAIN YOUR DRAGON
Join us in the Featured-Film channel on Discord to watch this movie with us!
Sunday, July 23rd at 4 PM- EST
We will be hosting activities (mostly movies since you can still work on art) during our closure as a way to keep everyone company during the break! We'd love to have you join us for any or all of these activities!
THIS PAGE IS NOT LIVE!
just use this to store things you don't wanna completely delete in case we wanna grab it again easily haha.
Happy Summer from FC!
We are currently on a temporary break! We will continue on Saturday, August 12th, 2023 at 7:30PM EST. See you then!
In the mean time, join us on Discord for some fun planned activities during the break! We plan to do some virtual parties to keep you company while you work on Art Fight attacks this July! Click the above link for more info on our next activity.